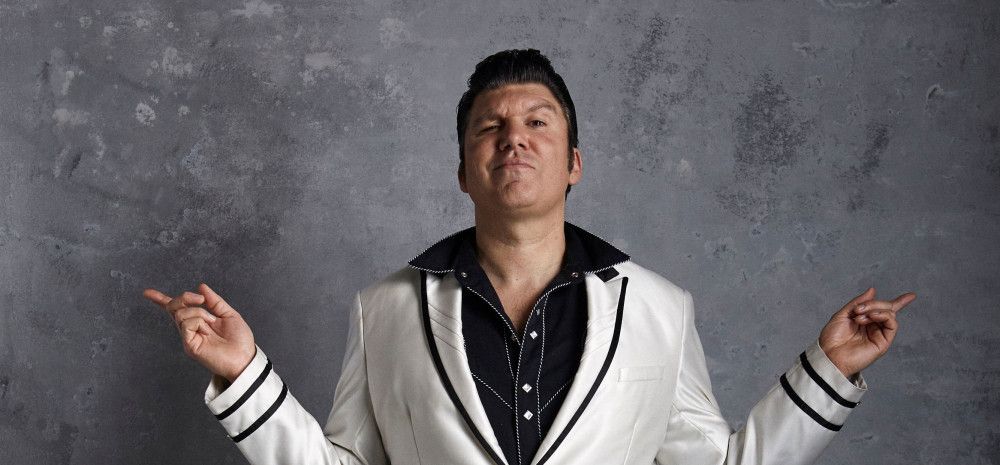 In this brand-new show, festival favourite and alternative cabaret legend Mikelangelo (Michael Simic) gives the King an almighty resurrection, bringing him back to life in a way you've never seen before.
Aloha from Dubrovnik reimagines how Elvis's life would have played out had he been born in Yugoslavia in the 1970s. With rock'n'roll illegal in communist Eastern Europe, the Balkan Elvis flees his war-torn homeland to build a new life in Australia. Becoming a husband and father, he tries to leave behind his dreams of stardom. But this isn't as easy as it seems.
Following the story of Johnny Presley as he faces his fate and prepares to return to the stage as the Balkan Elvis, Aloha from Dubrovnik is the sequel to the acclaimed Balkan Elvis production Eastern Bloc Rock. This is an intimate and engaging evening of musical storytelling with one of modern cabaret's great talents. Melding his Croatian father's life story with the life of the King, Simic has come up with a highly original and deeply personal production infused with humour, emotion and great music.
Directed by Sam Strong (Boy Swallows Universe), with musical accompaniment by Dave Evans (The Band Who Knew Too Much).
This performance is part of the Drum's Encore Program. All Encore tickets include complimentary morning tea and a parking voucher. Morning tea provided before the show, from 9.30am.
Photo image: Claudio Raschella
Duration: 90 minutes
Location
Drum Theatre
Corner Lonsdale and Walker streets, Dandenong
Cost of Event (if any)
Full price: $22; Group (8+): $20; Member: $18