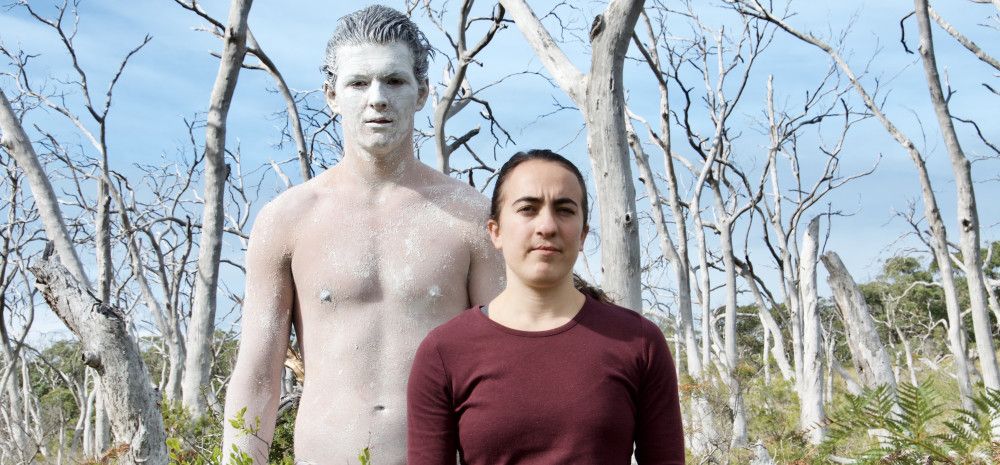 In a 21st Century world where it is common to believe in both spirituality and science – how can we navigate the complex dialogues that consume contemporary culture?
Common Dissonance is an urgent contemporary circus work that creates a physical dialogue between different voices of reason. Featuring two contemporary circus performers with shared and distinctly individual experiences, it seeks balance, community, exchange, unity and diversity.
For thousands of years in Australia, understanding of the world came from dreamtime stories, song lines, and oral histories, all of which are still relevant to many Australians. Our environment is riddled with the hypocrisies of a culturally diverse past lingering in the wake of a globalized present.
Common Dissonance presents this internal conflict as physical interactions between two performers, speaking not only to the inherent conflict between modes of reasoning, but also the moments of unity, the examples of cultural exchange, and hopes to seek resolution and balance into the future.
Contradiction and correspondence, harmony and dissonance: all play out as we seek truth, knowledge, and understanding in our lives.
Recommended for ages 12+.
"Australia makes good circus, but it's rare to see a show this moving." - Cameron Woodhead, The Age
"The company is prepared to bend the shape of things into something exhilaratingly new." - Stephen A Russell, Timeout
"In Common Dissonance, discussions of how we live and think are transformed from abstract concepts to heartpumping, flesh-and-bone reality." - Megan Koch, Arts Hub
Duration: 55 minutes, no interval
This project is supported by Regional Arts Victoria and Creative Victoria.
Please note: Aboriginal and Torres Strait Islanders are advised that the work contains voices of people who have passed away.
Company bio
Na Djinang Circus is a Melbourne based contemporary circus company working with diverse young artists to share unique insight with the next generation's Hands and Feet.
Founded by Wakka Wakka man Harley Mann, Na Djinang Circus aims to develop work that utilises the next generation's social and political attitudes and tell stories that challenge our own perceived ideas about contemporary Australian society. Our work explores fundamental human characteristics from an indigenous perspective, using the body to demonstrate complex human experiences of trust, connection, vulnerability, and joy.
Na Djinang Circus is known for being a First Nations led company and our art and ethos reflect traditional and contemporary values. We are curios, original and free to make mistakes.
We believe as artists we have the power to shape audiences' opinions and help create change
If you require additional assistance to participate, please get in contact with us.
Location
Drum Theatre
Corner Lonsdale and Walker streets, Dandenong
Cost of Event (if any)
Full price: $18; Group (8+): $15 pp; Children under 16: Free
Add to Calendar
2023-05-27 17:00:00
2023-05-27 17:00:00
Common Dissonance
In a 21st Century world where it is common to believe in both spirituality and science – how can we navigate the complex dialogues that consume contemporary culture? Common Dissonance is an urgent contemporary circus work that creates a physical dialogue between different voices of reason. Featuring two contemporary circus performers with shared and distinctly individual experiences, it seeks balance, community, exchange, unity and diversity. For thousands of years in Australia, understanding of the world came from dreamtime stories, song lines, and oral histories, all of which are still relevant to many Australians. Our environment is riddled with the hypocrisies of a culturally diverse past lingering in the wake of a globalized present. Common Dissonance presents this internal conflict as physical interactions between two performers, speaking not only to the inherent conflict between modes of reasoning, but also the moments of unity, the examples of cultural exchange, and hopes to seek resolution and balance into the future. Contradiction and correspondence, harmony and dissonance: all play out as we seek truth, knowledge, and understanding in our lives. Recommended for ages 12+. "Australia makes good circus, but it's rare to see a show this moving." - Cameron Woodhead, The Age "The company is prepared to bend the shape of things into something exhilaratingly new." - Stephen A Russell, Timeout "In Common Dissonance, discussions of how we live and think are transformed from abstract concepts to heartpumping, flesh-and-bone reality." - Megan Koch, Arts Hub Duration: 55 minutes, no interval This project is supported by Regional Arts Victoria and Creative Victoria. Please note: Aboriginal and Torres Strait Islanders are advised that the work contains voices of people who have passed away. Company bio Na Djinang Circus is a Melbourne based contemporary circus company working with diverse young artists to share unique insight with the next generation's Hands and Feet. Founded by Wakka Wakka man Harley Mann, Na Djinang Circus aims to develop work that utilises the next generation's social and political attitudes and tell stories that challenge our own perceived ideas about contemporary Australian society. Our work explores fundamental human characteristics from an indigenous perspective, using the body to demonstrate complex human experiences of trust, connection, vulnerability, and joy. Na Djinang Circus is known for being a First Nations led company and our art and ethos reflect traditional and contemporary values. We are curios, original and free to make mistakes. We believe as artists we have the power to shape audiences' opinions and help create change
Australia/Melbourne
public