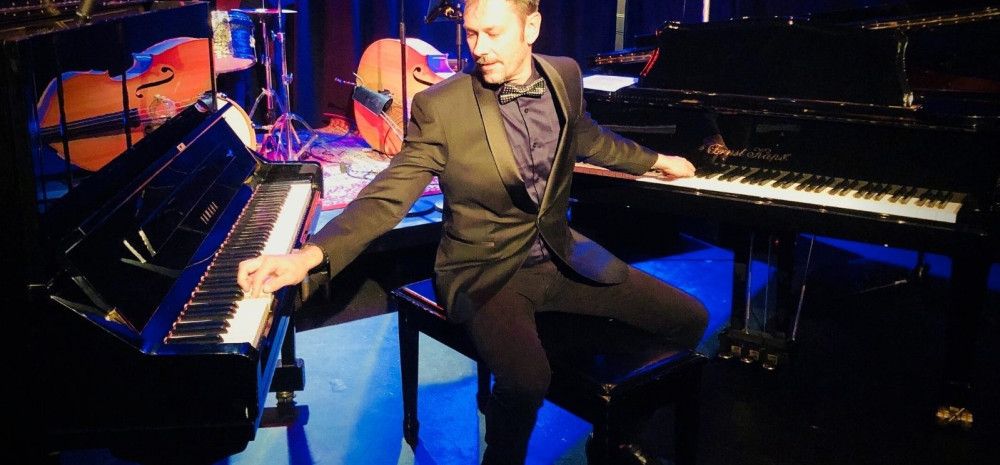 Crazy Arms is award-winning, piano-playin', soul-singin', funnyman Damon Smith's hot new live show about the infectious and energetic stylings of Boogie Woogie and early Rock and Roll music.
With absurd, improvised humour, musical wizardry and incredible stories about the piano and its players, Crazy Arms features virtuoso piano tinkering from some of the greatest musicians that have 'tickled the ivories' throughout the ages. With a stunning and well-known playlist including the music of Jerry Lee Lewis, Ray Charles, Fats Domino, Scott Joplin, Winnie Atwell, Dr John and more, Crazy Arms is pure musical magic.
You'll hear finger-busting boogie-woogie music, authentic vocals and blistering rock and roll hits like Great Balls Of Fire, Good Golly Miss Molly, and Blueberry Hill. This truly unique comedy-cabaret documentary will blow your socks clean off your perpetually tapping feet.
This performance is part of the Drum's Encore Program. All Encore tickets include complimentary morning tea and a parking voucher. Morning tea is provided before the show, from 9.30am.
Duration: 70 minutes, no interval
Reviews
"Multi-instrumentalist Damon Smith's skill on the piano was almost outshone by the quirky but entertaining comedic interludes that peppered this performance" ArtsHub

"Damon Smith on piano is a blues/boogie virtuoso" - Michael Coghlan, TheClothesLine.com
If you require additional assistance to participate, please get in contact with us.
Date and Time
Thursday 19 October, 10.30am
Location
Drum Theatre
Corner Walker and Lonsdale Street, Dandenong
Cost of Event (if any)
Full Price: $22; Group (8+): $20; Member: $18
Add to Calendar
2023-10-19 10:30:00
2023-10-19 10:30:00
Crazy Arms
Crazy Arms is award-winning, piano-playin', soul-singin', funnyman Damon Smith's hot new live show about the infectious and energetic stylings of Boogie Woogie and early Rock and Roll music. With absurd, improvised humour, musical wizardry and incredible stories about the piano and its players, Crazy Arms features virtuoso piano tinkering from some of the greatest musicians that have 'tickled the ivories' throughout the ages. With a stunning and well-known playlist including the music of Jerry Lee Lewis, Ray Charles, Fats Domino, Scott Joplin, Winnie Atwell, Dr John and more, Crazy Arms is pure musical magic. You'll hear finger-busting boogie-woogie music, authentic vocals and blistering rock and roll hits like Great Balls Of Fire, Good Golly Miss Molly, and Blueberry Hill. This truly unique comedy-cabaret documentary will blow your socks clean off your perpetually tapping feet. This performance is part of the Drum's Encore Program. All Encore tickets include complimentary morning tea and a parking voucher. Morning tea is provided before the show, from 9.30am. Duration: 70 minutes, no interval Reviews "Multi-instrumentalist Damon Smith's skill on the piano was almost outshone by the quirky but entertaining comedic interludes that peppered this performance" ArtsHub "Damon Smith on piano is a blues/boogie virtuoso" - Michael Coghlan, TheClothesLine.com
Australia/Melbourne
public