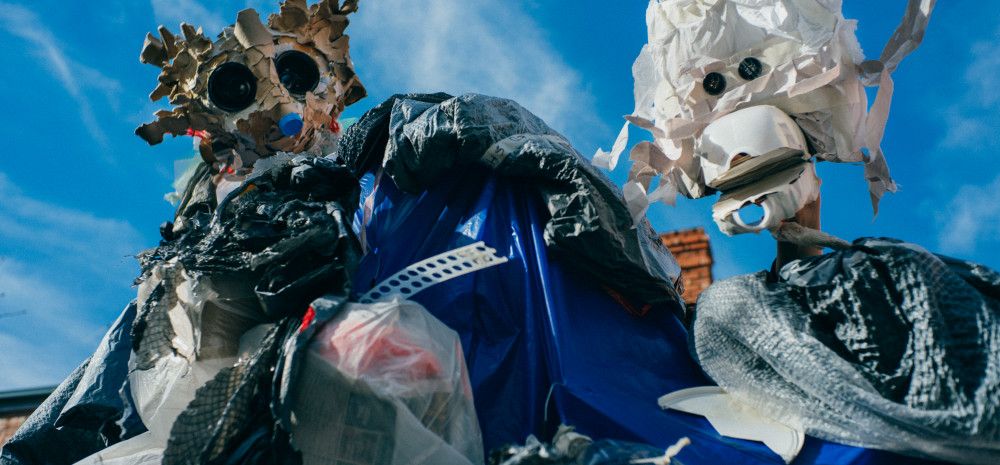 Join us for a puppet show with sustainability at its heart.
Escape from Trash Mountain is a poignant look at how good relationships and fervent optimism are the key to saving our planet. Watch in amazement as a large mountain of trash transforms into a cave and becomes the epic playground for our heroes to fight trash bats, navigate treacherous ravines and outwit hideous trash monsters.
Children of all ages will be captivated as two performers operate 17 different puppets and a transforming trash mountain to bring the show to life. Escape From Trash Mountain is fun for the whole family.
The show is accompanied by engaging Trash Puppets workshops where kids make their own puppet guided by experience puppet-making experts.
There are two workshops of up to 90 minutes on Thursday 22 September that are free but bookings are essential. The performance is on Monday 26 September at 11am. Join us for both to see how it's all put together.
Duration: 60 minutes, followed by puppet making in the foyer
Note: Suitable for kids aged 4-12 and their families
Reviews
". . . an endearing work of children's theatre which is irresistibly engaging . . . The use of recycled materials . . . is stylishly executed and the underlying message of sustainability is ever-present without feeling forced or over-indulged." - Heath McIvor (Sammy J & Randy) ABC Radio
"The performance was superb, the kids were totally engaged from beginning to end, and the message was pertinent and clear." - Glam Adelaide
"Five stars!" - Aukland Live
Date and Time
Workshops:
Thursday 22 September - 11am-12.30pm and 2pm-3.30pm
Performance:
Monday 26 September - 11am
Location
Drum Theatre
Corner Lonsdale and Walker streets, Dandenong
Cost of Event (if any)
All tickets: $18; Family (4+): $14 pp. Workshops are free but bookings are essential