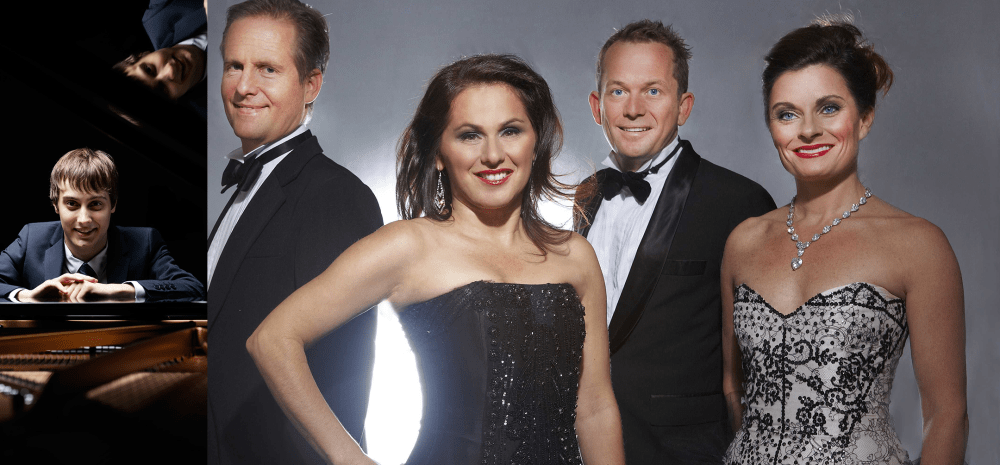 A selection of opera favourites from Mozart to Andrew Lloyd-Webber performed by Pot-Pourri, with Australia's leading music theatre performers.
Take five of Australia's most talented performers: teo sopranos, a tenor, baritone and the most talented young pianist; add a dash of opera and a slice of cabaret; toss in your favourite Broadway hits and a touch of class; a hint of magic and top it all off with a big dollop of comedy. All served up with stunning voices, gorgeous harmonies and lots of fun. And there you have the sensational and superbly entertaining Pot-Pourri.
Voted Australian Event Entertainers of the Year after the launch of their acclaimed Silver album, sensational songsters Pot-Pourri have been wowing audiences around Australia and internationally on the concert stage and conference and event circuit. With a new line-up, look and show, 40 overseas tours and seven albums under their belt, they are described as brilliantly talented, funny, fresh, moving and must-see . . . do not miss them.
This is a sparkling and unique performance featuring well-known hits from opera to Broadway and songs from Phantom of the Opera, Les Miserables, Westside Story, La Traviata, Turandot, Carmen, Lakme, The Pearl Fishers and favourites and international hits from Leonard Cohen, IL DIVO, Josh Groban and Andrea Bocelli including Nella Fantasia, You Raise Me Up, Hallelujah, The Prayer and Time to Say Goodbye. These talented artists hit those high Cs in opera, belt out Broadway, seduce with song, dance up a storm, create magic and stir your soul with haunting ballads.
This performance is part of the Drum's Encore Program. All Encore tickets include complimentary morning tea and a parking voucher. Morning tea is provided before the show, from 9.30am.
Duration: 75 minutes, no interval
Date and Time
Thursday 16 March, 10.30am-11.45am
Location
Drum Theatre
Corner Walker and Lonsdale streets, Dandenong
Cost of Event (if any)
Full Price: $22; Group (8+): $20; Member: $18
Add to Calendar
2023-03-16 10:30:00
2023-03-16 10:30:00
From Figaro To Phantom
A selection of opera favourites from Mozart to Andrew Lloyd-Webber performed by Pot-Pourri, with Australia's leading music theatre performers. Take five of Australia's most talented performers: teo sopranos, a tenor, baritone and the most talented young pianist; add a dash of opera and a slice of cabaret; toss in your favourite Broadway hits and a touch of class; a hint of magic and top it all off with a big dollop of comedy. All served up with stunning voices, gorgeous harmonies and lots of fun. And there you have the sensational and superbly entertaining Pot-Pourri. Voted Australian Event Entertainers of the Year after the launch of their acclaimed Silver album, sensational songsters Pot-Pourri have been wowing audiences around Australia and internationally on the concert stage and conference and event circuit. With a new line-up, look and show, 40 overseas tours and seven albums under their belt, they are described as brilliantly talented, funny, fresh, moving and must-see . . . do not miss them. This is a sparkling and unique performance featuring well-known hits from opera to Broadway and songs from Phantom of the Opera, Les Miserables, Westside Story, La Traviata, Turandot, Carmen, Lakme, The Pearl Fishers and favourites and international hits from Leonard Cohen, IL DIVO, Josh Groban and Andrea Bocelli including Nella Fantasia, You Raise Me Up, Hallelujah, The Prayer and Time to Say Goodbye. These talented artists hit those high Cs in opera, belt out Broadway, seduce with song, dance up a storm, create magic and stir your soul with haunting ballads. This performance is part of the Drum's Encore Program. All Encore tickets include complimentary morning tea and a parking voucher. Morning tea is provided before the show, from 9.30am. Duration: 75 minutes, no interval
Australia/Melbourne
public