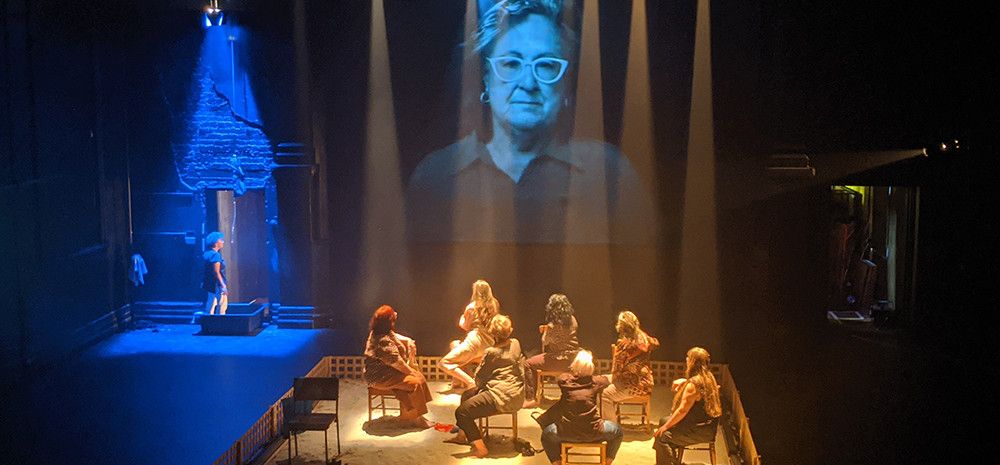 We are pleased to announce the performance of unHOWsed on 22 July has been rescheduled to Wednesday 18 August at 7.30pm. Please retain your tickets as they will be valid for the new date or speak to box office about a refund if required.
Please visit the COVID Corner – Community Information Centre page for further Coronavirus (COVID-19) information and support.
More older women are experiencing homelessness than ever before. In unHOWsed these women take centre stage and shine a light on the unexplored territory of lives lived on the edge. Their real voices are strong and significant. In a series of poetic, non-linear and true narratives, they bare the emotional baggage that comes with homelessness.
unHOWsed is a multidisciplinary performance work about older women's homelessness drawn from their real experience, with pathos and humour. It is a very relevant and timely topic affecting increasing numbers of women. It is currently one of the fastest growing types of homelessness.
Recent census data shows that in five years the number of older women experiencing homelessness has increased by 31%, Homelessness Australia reported the number of older women 'couchsurfing' increased 83% and the number of older women sleeping in cars rose 75% in four years.
Duration: 60 minutes plus Q&A with the cast
Age recommendation: 15 years+
Note: Haze effects, coarse language, adult themes
Booking
To book please purchase a ticket through our booking system. Select the 'Book now' button below or telephone our friendly box office team on 8571 1666.
Location
This program will be delivered in person at the location listed below.
Review
"With older women being one of the fastest rising group of homeless people in Australia, it's time that everyone's eyes opened up to the reality we are facing and UnHOWsed is a captivating way to start." - My Melbourne Arts

"UnHOWsed is one of the most important works you'll see. It's under 60 minutes, and totally powerful. These are brave, real women, and they're sharing a slice of themselves with the world to shed light on an experience far vaster and pervasive than the space of the stage." - Theatre Press

"…Not a play – a work of refined art… An inspired and enlightening piece." - Stage Whispers

"Theatre doesn't get anymore special or unique than this." - Theatre Travels
Participants will require the following
Ticket
Contact details (Name, email address, contact number) to check-in on the day
Smartphone/smart device to scan QR Code (If you do not, there will be staff to check you in)
Face mask
The Drum Theatre COVID Safe Plan
To meet COVIDSafe requirements, please be aware some programs and events may be moved online or cancelled.

All COVIDSafe guidelines will be fully met to ensure public safety for this event. All attendees must be checked in.

Full: $25; Concession: $18; Member: $18; Group (8+): $18 pp; Youth U30: $18
In person event at Venue
Add to Calendar Disabled