The Drum Theatre is an award-winning building offering spectacular architectural spaces for hire, including a 518 seat theatre and function rooms for a range of corporate and social events.
Theatre Hire
The Drum Theatre is available for hire to schools, dance groups, community groups and performance companies. It also offers an entertaining and challenging program of high quality performances for South East Melbourne to enjoy. The Drum is wheelchair accessible, including lift access to Level 2.
Fee Schedules - Recovery Pricing 2022-23
Commercial Theatre Productions - 847KB
Not for Profit and Community Agency (includes dance schools) - 847KB
Venue Hire Form
Drum Theatre Venue Hire Booking Form - 184KB
For more information about the technical specifications of the theatre visit the Theatre Information page.
Ticketing for Theatre Hirers
The Drum Theatre provides a range of ticketing services to clients. A full ticketing service can be supplied by Drum Theatre Box Office.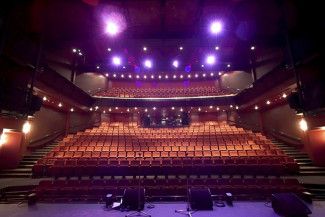 Theatre Hirer Inclusions
When hiring Drum Theatre, your hiring charges include standard theatre lighting and audio, use of dressing rooms, power, air conditioning, standard cleaning, foyer use for merchandise and programs. Staffing, ticketing and marketing support will incur additional charges and commission maybe charged on merchandise sales.
Theatre hirers also have exclusive access to Drum Theatre's Green Room backstage. The Green Room is equipped with filtered water, on-demand boiling water, microwave, dishwasher and tea and coffee making facilities.
There are four dressing rooms on the basement level below the stage. Each is equipped with toilets and showers, costume racks, hot and cold water and program speakers. More information is available on the Theatre Information page.
Function Room Hire
The Drum Theatre has a number of function rooms available for hire. These include three heritage listed rooms located in the refurbished building and our contemporary and light-filled Paul Streefkerk Rehearsal Room located behind the stage. These rooms are all suitable for a range of corporate and social events, from a small meeting for 10 guests through to a large theatre style presentation for 100 guests - Drum Theatre has a room to suit all your requirements.
Drum Theatre's Bar and Foyer is also the perfect place to hold a cocktail party. With the clear perspex roof and modern architecture there is no venue more unique than Drum Theatre.
At the Drum Theatre we have the latest, most up-to-date audio visual equipment, including smartboards, data projectors, electronic whiteboards and more. So whatever your technical requirements are, Drum Theatre can accommodate them.
For a venue tour, detailed event quote or further information please contact drumtheatre@cgd.vic.gov.au or 8571 1666.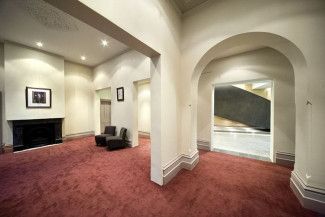 Magistrates Room
Located on street level, this room has been designed specifically for training and meetings. With capacity for up to 32 people in classroom style, or 20 people in a u-shape with separate facilitator head table, this room is equipped with a tea and coffee station and a whiteboard.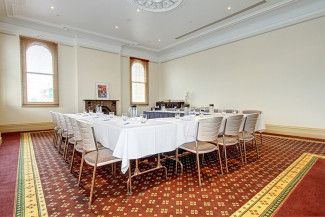 Reading Room
Located on the first floor, this room has been fully restored back to its original glory and is an ideal venue for small meetings or intimate gatherings. It can comfortably seat 18-20 guests in a u-shape configuration or boardroom layout.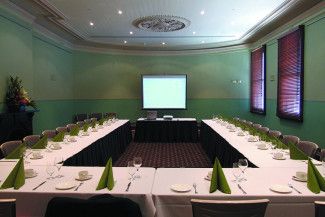 Committee Room
The Committee Room is also located on the first floor and has also been restored to its former glory. With high ceilings and ample natural light, this is an excellent room for events ranging in size up to 60 guests, depending on desired room set-up.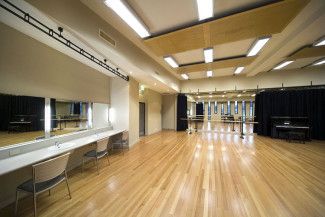 Paul Streefkerk Rehearsal Room
The Paul Streefkerk Rehearsal Room is located at the rear of the building and is a modern multi-purpose room ideal for theatre style presentations up to 100 guests or sit down functions for up to 40 people. With plenty of natural light and modern spring floors, it is popular for corporate lunches, large workshops and business presentations. Drum Theatre encourages performing arts groups to utilise this room for rehearsals. A special rate is available for eligible groups.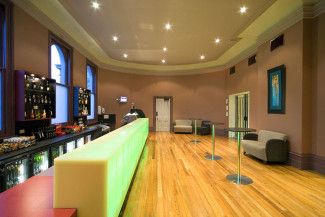 Bar and Foyer
This unique and contemporary space is ideal for cocktail parties, presentations or exhibitions for 50 to 400 guests. Located on ground level, with striking architectural features, it is a memorable and one-of-a-kind space for your special event or party.
Exhibition Space
The Drum Theatre has an inviting foyer space which is available for the community or professional visual arts groups to hire. The foyer is equipped with picture rails and the space is flexible enough to host a variety of art mediums. The space can be hired for periods of 4 weeks. We are happy to discuss your needs if different time periods are required.
Catering
The Drum offers full-service catering or private self-catering depending on your event requirements.
Full-Service Catering: The Drum staff can offer you a professionally catered service, with a range of menu options available to suit all requirements and budgets. From a full-day conference with a working lunch, business breakfast, cocktail party and everything in between we have a range of catering options to best accommodate all catering requests.
Private Catering: We understand that some events need a personal touch, so we welcome self-catering if that suits your event best. Please note, the responsibility for quality, service and delivery is yours. The Drum team ask that you inform us of your intention to self-cater and pass on the service providers details.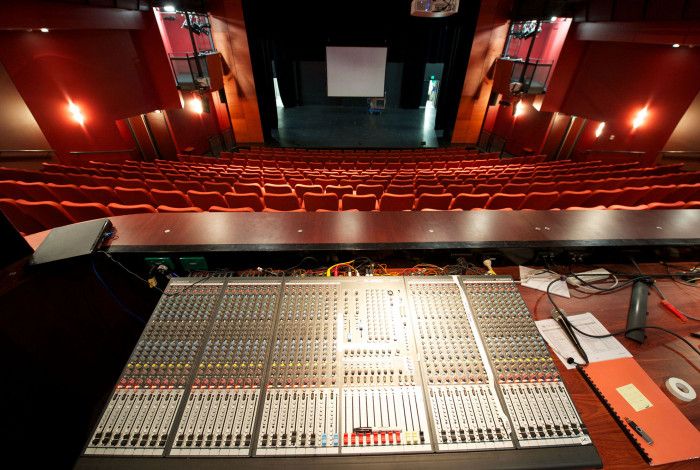 Our theatre is available for hire to schools, dance groups, community groups and performance companies.